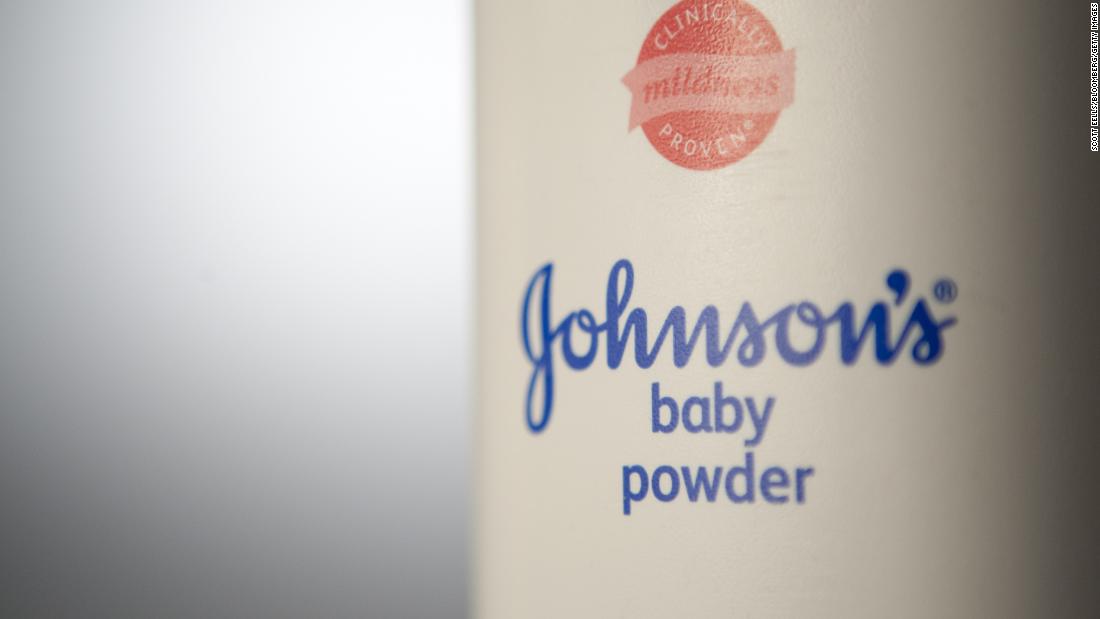 (CNN)Visitors who walk into Deborah Giannecchini's ranch house in Modesto, California, will notice a well-tended garden, four small dogs who greet every visitor with enthusiasm and a sign that hangs prominently displayed in her living room that reads "It's never too late to live happily ever after."
She got it when she was 62 years old, after she married her husband, Leland, but it could also represent her current mission: to help other women avoid the pain she's experienced and allow them to have their own happy endings.
She and thousands of others claim that they got their ovarian cancer after using a common toiletry as a part of their daily feminine hygiene routine. They used talc-based powder, commonly referred to as talcum powder or baby powder,though some baby powder products are cornstarch-based.Cornstarch products are not believed to cause any health problems.
She'd been using Johnson & Johnson's Baby Powder nearly every day since high school. Sometimes, she'd alsouse the Shower to Shower product, which Johnson & Johnson used to own. She liked the powders because "both felt nice," she said. "It was smooth and made your skin smell nice and fresh. It was just part of what I did every day."
Health-conscious and a self-described label-reader, Giannecchini never saw anything on the powder bottle to give her pause. "If you've seen the ads, you know it is supposed to be a pure and innocent and harmless product that we use on babies," she said. Like millions of others, she sprinkled away.
Sales of talc-based products like general-purpose talc, baby talcum powder, perfumed talc and "liquid talcs" — perfumed liquids that can be sprayed over the body to leave a powdery feel — brought Johnson & Johnson nearly $325.2 million in 2016 alone, according to market research firm Euromonitor.
Adults also use the powder as a dry shampoo, a foot powder and a general after-shower ritual. "I used it everywhere, like a lot of my friends did, from head to toe," Giannecchini said.
Some women like Giannecchini also used it for feminine hygiene. Women who sued the company have testified that they'd sprinkle it in their underwear, on their thighs to prevent chafing, on sanitary napkins and on tampons. It's use in this area that's concerned some scientists.
Giannecchini didn't know that there was some scientific concern about her favorite powder. In fact, she used it even after her ovarian cancer diagnosis, adiagnosis that came as a big surprise.
She had gone to the ER after her family pressured her because she wascoughing constantly.
"I didn't come home right away from the emergency room like I thought I would," Giannecchini said. Instead of bronchitis, like she suspected, doctors found the cancer, and it was so advanced, they had to remove her spleen and part of her stomach. The cancer spread toher colon, bowel and bladder, too. The treatment was grueling, the prognosis not good.
"It was not pleasant," Giannecchini said. "But my family likely saved my life."
Giannecchini's daughter Casey got her mom to quit her Baby Powder habit only after seeing a lawyer's ad on TV. They're frequently seen on late-night TV, saying things like "If you or a loved one have developed ovarian cancer after using talcum powder: call."
Smith and Meadows are a classic odd couple. Meadows is quiet, serious, a runner; when not consumed with work for his large firm, he roots for his alma mater, football powerhouse University of Alabama. Smith is easy to smile and quick with a story, and he looks as if he could have played for his alma mater, the Alabama rivalUniversity of Mississippi. Ole Miss memorabilia covers the walls of Smith's small solo practitioner office in suburban Jackson, Mississippi. Where the two are in sync is on these talc cases.
Smith learned about how women use talc in their genital area, meaning in underwear and sanitary products, whilesitting at his parents' dinner table. His father, a retired plastic surgeon, asked whether he'd ever heard about any connection between talc and cancer. When he got home that night, Smith started googling.
"I couldn't believe what I saw," he said after looking at the scientific studies and the scientific debate that followed. "And I wondered, 'Am I the only lawyer to see this?' "
Based on his own research, Boffetta found, "there seems to be a small increase or risk for women who are heavy users of genital talc," he said. "However, we don't necessarily know what causes it."
Boffetta, who also thinks more research is necessary, believes that talc use in the genital area, while not a strong cancer risk factor like smoking, "may be a real factor in some cases."
"That evidence has really come together and built over nearly 30 years now," Colditz said. "This kind of science takes time."
"The NTP deferred consideration of listing talc (asbestiform and non-asbestiform talc) in the 10th RoC because its 2000 review of talc found that there has been considerable confusion over the mineral nature and consequences of exposure to talc, both containing asbestiform fibers and not containing asbestiform fibers. It has become evident that the literature on both forms of talc, with a few exceptions, provides an inadequate characterization of the actual materials under study to enable one to reach definitive conclusions concerning the specific substances responsible for the range of adverse health outcomes reported."
Smith spent about five more years immersed in talc research. He joined ovarian cancer associations. He'd visit experts on free nights and weekends. He read ovarian cancer blogs.
Smith asked whether he could help, and Berg sent her medical records. Smith also got tissue samples of her ovarian cancer tumors and sent those along with the records to some of the experts he had met.
"I asked them, could they come to court and state scientifically to a reasonable degree of medical certainty that talc was a contributing factor to Mrs. Berg's ovarian cancer," Smith said,"and they said 'absolutely, yes.' "
Smith decided, even as a solo practitioner, he could take on the pharmaceutical giant. He personally sifted through hundreds of thousands of records from Johnson & Johnson. "I printed out all the documents on my computer, had them stacked all around this office, filing every space. And every day for 10 months, for 10 hours a day, I looked through the documents one by one," Smith said. "I could not believe what I would discover."
Godleski's report on Berg's cancer, which was read at trial, said that "based on the findings in this case, it can be stated to a reasonable degree of medical certainty that the talc found in this case is evidence for a causal link between the presence of talc and the development of the patient's ovarian cancer."
When news of the trial spread, Smith's eventual law partner on the case, Meadows, wrote a short article for his firm's newsletter about Smith's win. Legal experts say it's incredibly difficult to prove exposure to a particular product may be linked to cancer. A win in South Dakota, even without damages, meant Smith might be on to something. Meadows thought after his article came out that he'd hear from women who might be interested in bringing their own cases.
Instead, Smith called.
Other women with ovarian cancer had contacted Smith. More potential cases meant more work than Smith could handle. He and Meadows decided to work together and started flushing out what became a winning strategy, at least with juries.
In 18 months, half a dozen juries had ruled in their clients'favor, awarding tens orhundreds of millionsto five ofthe six plaintiffs in individual cases. One of those women was Giannecchini. She flew to St. Louis in 2016 and listened to every word of her trial.
"I learned a lot from them, although it was strange to hear about your life this way," she said. "I'm kind of a private person, so sharing every little bit of your life wasn't easy for me, but I just felt like it was something that I had to do."
In court, a black cardigan wrapped around her shoulders, Giannecchini talked about how the grueling cancer treatment had left her with little energy, but she was determined to live. An attorney from her team showed a series of pictures Giannecchini would take with her grandchildren every Easter. They paused to look at one where she is surrounded by five grandkids, all dressed in robin's egg blue. In the picture, Giannecchini wears a lavender headscarf, covering what she called her "old bald head" from chemo. "I decided to just embrace that and say 'this is what cancer does,' " Giannecchini said.
"Cancer is caused by genetic mutations," she told the jury. "We don't know what causes those gene mutations in ovarian cancer, but we specifically know from studies that talc does not cause mutations in genes," she said, reiterating, "talc does not cause gene mutations.
"Talc is not the cause," she emphasized. "I almost wish it was the cause; it would be such the simple thing to do."
"We conclude that the weak statistical associations observed in a number of epidemiological studies do not support a causal association," he said. Unlike most other scientists, he said he doesn't think more research on the topic is necessary. He thinks the issue is settled.
Williams, one of the lawyers for Johnson & Johnson, said that "hard science" studies in animals and human cells, compared with epidemiological studies that show a possible association, do not show that talc causes cancer, and that's the key.
"The most compelling argument, I think, is trying to get juries to focus on the notion that correlations or association is not the same as causation," Williams said. "So an example we use is bald men and hats. Just because bald men wear hats more often than men who have a full head of hair doesn't mean that wearing the hats makes their hair fall out. There is an association, a correlation, but there isn't a cause there. Wearing a hat has nothing to do with male pattern baldness, scientists will tell you."
The jury in Giannecchini's case decided that there was an association between talc and cancer. In October 2016, it awarded her $70 million. The decision is on appeal.
She also ruled that there was error in law occurring at trial and misconduct of the jury, which led to excessive damages.
Litigation like this, unlike criminal law, "can take forever," and "cancer is always very complicated to prove." With tobacco and asbestos, it took decades before the science showed, and the courts believed that there may be a connection," Eggen explained. "It does make you wonder what the next part of the story will be."
As far as Johnson & Johnson is concerned, it has said it will continue to fight these cases.
Smith and Meadows — and dozens of other attorneys involved in these cases — are determined to get their day in court. "What the future holds for this litigation, I don't know," Smith said. "I hope and pray at a minimum Johnson & Johnson will at least put a warning label on their product."
Williams, one of the Johnson & Johnson lawyers, thinks that putting a label on the product would be "irresponsible."
"I think having a cancer warning on a product that hasn't been shown to cause cancer, it just isn't the right thing to do," he said. "If 40 years of animal studies and human cell studies have failed to show some causal connection in using talc anywhere on your body and ovarian cancer, and given that, putting a cancer warning on the product wouldn't be proper."
Giannecchini, who watches for news of the other trials and waits for a final ruling in her own case, continues her own personal battle with cancer. Her doctors monitor her condition closely.
"I'm fighting it," Giannecchini said. She hopes to continue to be around to tell her story. "So far, so good. Here I am."
Read more: https://www.cnn.com/2018/04/11/health/talc-ovarian-cancer-cases/index.html